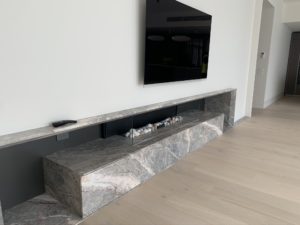 During this unprecedented time, business as normal at Regal Stonemason with additional measures in place as our #1 priority is the health and safety of our people and our clients.
Regal Stonemason is fortunate to have a dedicated team who are still very much focused on delivering stonetops and surrounds of highest quality just like this recent job in Toorak boasting luxury living:
Seamless design Marble island with a dining table, matching veins and 40mm special edging.
Kitchentop, splashback and rangehood claddings using "Michelangelo's material of choice on St Peters Basilica" –> Travertine.
Fireplace bench, drawers, flooring and surrounds using a beautiful sabrael Marble.  Comes with 65mm x 115mm special edging.
Ensuite vanity, bath hob and surrounds using Travertine.
A job well done by the Regal Stonemason team.
Please visit our Facebook page to see more photos.